Durable and Timeless Hardwood Floors
When you are looking for top-quality hardwood flooring, visit us at Prenger's Flooring America. As a locally owned and operated flooring store, we pride ourselves in offering a wide selection of beautiful hardwood flooring options from some of the industry's leading brands and manufacturers. Whether you're a homeowner looking to upgrade your living space or a business owner seeking to enhance your commercial property, we have the perfect hardwood flooring solution to meet your unique needs and preferences. From classic and traditional to modern and chic, we carry an extensive hardwood selection in various colors, textures, and finishes to suit any budget and style. Visit our showroom in Carroll, IA, to explore our selection of timeless hardwood flooring.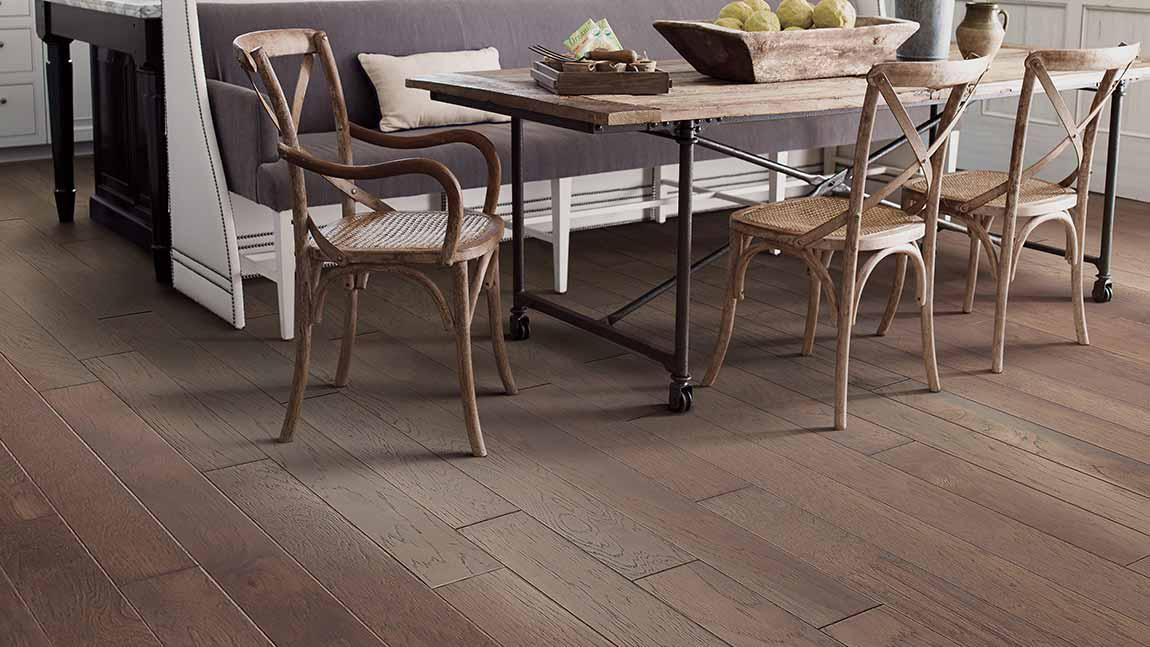 Hardwood Flooring Types
When it comes to hardwood flooring, there are two main types: solid hardwood and engineered hardwood. Each type has unique advantages that homeowners should consider before deciding. Let's learn more about both types:
Solid hardwood flooring

is made from a single piece of wood milled to the desired thickness. It is available in various wood species and can be sanded and refinished multiple times, making it a durable flooring option.

Thicker in construction, solid wood is a sturdy flooring choice that can be given a satin, matte, or gloss finish, depending on your preferences. Solid hardwood can last a lifetime and is perfect for bedrooms, living rooms, dining rooms, and hallways with proper care.

Engineered hardwood flooring

is made from layers of wood veneer fused together, with a top layer of hardwood. It is more durable than solid hardwood, making it less prone to expanding and contracting due to changes in humidity and moisture.

This makes it perfect for below-grade installations where dampness is common. It is an excellent choice for kitchens, bathrooms, and basements.
Hardwood's Many Benefits
Hardwood flooring is a popular choice for Carroll homeowners and for good reason. Our hardwood floors come from the best brands in the industry so you know you are getting the best flooring possible. Here are some of the advantages and benefits of hardwood flooring:
Hardwood flooring is known for its

durability

and

long-lasting

quality. When properly maintained, hardwood flooring can last for decades.

Hardwood is a sought-after feature in homes that can

add value

to your property.

Hardwood flooring is

easy to clean

, making it ideal for busy homeowners. A simple sweep or vacuum and occasional mopping are needed to ensure these floors look beautiful.

Hardwood

never goes out of style

and complements every decor style. This

timeless

flooring comes in various styles that suit any home.

Hardwood flooring does not trap allergens, dust, or other pollutants, making it

an excellent choice for those with allergies

or asthma. It also doesn't emit harmful chemicals or odors, making it a healthier choice for your home.
Maintaining Your Hardwood Floors
Maintaining hardwood floors is essential to ensure that they remain beautiful and durable for years to come. Here are some tips for maintaining hardwood floors:
Regular Cleaning

: Regular sweeping or vacuuming is necessary to remove dirt, dust, and debris that can scratch the surface of hardwood floors. Use a soft-bristled brush attachment to avoid damaging the floors.

Mopping

: A damp mop or microfiber cloth can help remove stubborn dirt and grime. Avoid using excess water or harsh cleaners, which can damage the hardwood floors.

Protect from Scratches

: Protect hardwood floors from scratches using furniture pads under chair legs and furniture. Avoid wearing high heels or dragging heavy objects across the floors.

Prevent Water Damage

: Hardwood floors are sensitive to water damage, so cleaning up spills immediately is essential. Avoid wet mopping or using steam cleaners, as excessive moisture can cause the wood to warp or cup.

Refinishing

: Hardwood floors may become scratched or dull over time, requiring refinishing. Refinishing involves sanding down the surface of the hardwood floors and applying a new finish.
Professional Hardwood Flooring Installation
Your home design dreams are important to us! Our expert installation contractors are ready to take the project past the finish line with detail-oriented work that stands the test of time. Find the species you want and the brand names you know and love when you make Prenger's Flooring America the first stop on your design journey. An added benefit to using our in-house installers is that all of our products are covered by some of the best warranties in the industry. With our Ultimate Confidence Guarantee, the lifespan of your new floor is considered. Although we believe our craftsmanship speaks for itself, if you find yourself unhappy with our work or the new floor you received, give us a call within 30 days of installation. We will gladly replace your floor with a similar model, free of charge.


Contact us to learn more about our carpet selection and installation services. We proudly serve customers in Carroll, IA, and the surrounding areas.