Luxury Vinyl Tile Flooring in Carroll, IA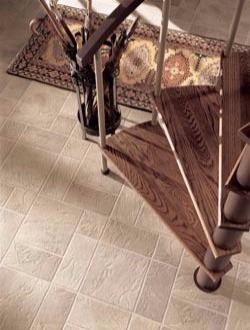 Discover floor coverings that are handsome, sturdy, and easy to maintain at Prenger's Flooring America. Choose luxury vinyl tile flooring in Carroll, IA. Our local flooring showroom features brand-name vinyl flooring in hundreds of brands, styles, and colors. Why settle for worn-out floors when we can give you so much more?
Enlist the aid of our sales and design professionals in selecting vinyl that meets your lifestyle requirements and design preferences. These knowledgeable professionals can answer all of your questions about brands, features, and benefits. Plus, they know how to choose vinyl floor tiles that work with your current décor.
The Popular Appeal of Vinyl Tile Flooring
Vinyl is one of our most popular flooring options due to its versatility. It is a flooring product that can mimic high-end styles, such as ceramic tile and vinyl plank. With advanced 3-D manufacturing techniques, luxury vinyl flooring (LVT) looks just like surfaces made from other coveted flooring options, such as porcelain, ceramic, stone, and hardwood. The realistic appearance of LVT flooring is welcome in any home or business setting.
How would you like vinyl flooring with the authentic appearance of ceramic, porcelain, or slate tile? Luxury vinyl has the amazing ability to imitate different types of tile. Such upscale flooring elevates the ambiance of any space. Remodeling with luxury vinyl makes your home that much more pleasant for you and your family, as well as easier to sell your house in the future.
Vinyl Tiles -- Practical, Beautiful, & Waterproof
For many of our customers, vinyl tile is a practical option that is as beautiful as the tile it imitates. It is competitively priced and durable. This flooring type is ideal for busy families with children and pets as luxury vinyl can withstand the continuous foot traffic and resist scratches, scuffs, and dents.
In addition, LVT withstands water. Spills and splashes are unavoidable in a house, whether from washing dishes, showering, or drinks carried into the living room. With luxury vinyl tile, all you have to do is wipe up the mess and use a mild detergent to clean it up. When your tile is made of vinyl, water doesn't have the power to destroy.
Then, too, the waterproof nature of vinyl tile offers our customers installation versatility. You can install this flooring in places you may not use real tile. This allows you to choose LVT for every room in your home.
The Endless Possibilities of Decorating with Luxury Vinyl
The realistic beauty of our vinyl floor tiles enables you to use them to create a stunning space. Imagine the elegance of ceramic in a formal dining room, the contemporary appeal of porcelain in the living room, or the rustic appeal of slate in your kitchen. These are just a few of the multitude of choices we offer our customers.
Browse our showroom for stone-look vinyl flooring that has all of the appeal of travertine or marble, but is lighter in weight and lesser in price. Our sales and design professionals can help you select vinyl that complements your décor.
Depend on Our Professionals for Vinyl Flooring Installation
We have an abundance of styles of vinyl tile flooring that meet your design preferences and your lifestyle requirements. Once you have made your choice, allow us to schedule luxury vinyl tile installation. Our store has a staff of skilled and experienced installers who know all the ins and outs of accurate and efficient floor installation.
Professional installation is essential to the long-lasting beauty of your vinyl tile floors. Unless it is done, right installation can cause vinyl floors to warp and become a target for ripping and tearing. Our installers make sure that your flooring adheres securely so that it graces your home for many years to come.
You can feel confident about all of our products and services for our flooring store backs up our promises with the strongest guarantees in the business. We do this to ensure our customers don't have to worry about shopping with us. Rest assured we are dedicated to making this a satisfying and enjoying shopping experience.




Contact us today to floor your home with the functional beauty of luxury vinyl tile. We proudly serve customers from Denison, Jefferson, Harlan, Lake View, Sac City, and Carroll, Iowa.